In The
Pink
The FT Group brings together the world's best international business newspaper with a network of leading national business titles and a consistently successful financial information company.
The Financial Times is the world's most international newspaper, printed in 24 cities with correspondents in 55 countries and readers in over 110. We create four different newspapers every day - for the UK, continental Europe, the US and Asia - at the same time as we provide live news and analysis around the clock on FT.com. Eight years ago the FT's newspaper circulation was 300,000, with more than half in the UK; today it is 435,000, with two-thirds outside the UK. And over the same period FT.com has gained a regular audience of around three million monthly users and 76,000 paying subscribers. In print and online, the FT has more paying readers today than at any point in its history.
Alongside the FT, we have a network of leading national business newspapers and online services including Les Echos in France and FT Deutschland in Germany, stakes in business newspapers in South Africa, Russia and India, and 50% of the world's best weekly current affairs journal, The Economist. So the FT Group combines an international perspective on business news with local market intimacy; it shares ideas, stories and insights across our newspapers; and its individual parts punch above their weight because we buy paper, distribution and other services together.
Twelve years ago, the FT Group conceived Interactive Data Corporation, now one of the leading providers of financial data to institutional and private investors. IDC provides them with information on more than 3.5 million securities traded around the world, and through a combination of organic growth and bolt-on acquisitions has grown from a company with sales of $140m in 1997 to a $500m company today.
For the past three years, our newspapers have faced a harsh business advertising recession, coupled with the increasing importance of the internet as a source of news.
In 2004, we weathered the storm and set the stage for further recovery. Our cost actions meant that our network of newspapers returned to profit, even though we haven't yet seen any meaningful pick-up in advertising. Our investments in content and technology kept our newspaper franchises strong - maintaining high-quality audiences in print and growing audiences online very rapidly. IDC posted another great year, growing again even while its competitors were shrinking and adding some new businesses which will be important to its long-term future.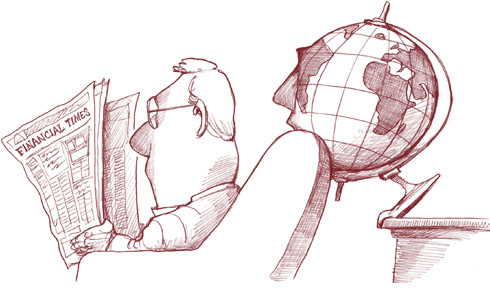 The world's business newspaper
Looking further ahead, we're confident about the prospects for the FT Group, even in an uncertain advertising climate. We see financial institutions continuing to rely on IDC for the high quality financial information they need to operate successfully and meet their regulatory requirements. We see business people looking for a truly global outlook on business, finance and economics, and for independent, authoritative news and analysis. And we see advertisers shifting from mass media to niche titles which deliver a very precise, very targeted audience of the world's influential business people, investors and political leaders. Among them Warren Buffett, the world's most successful investor, who told his shareholders: 'If you wish to keep abreast of trade and currency matters, read the Financial Times.'