Novel

Ideas
Penguin is one of the world's leading consumer publishing businesses, the most loved brand in the industry and home to other famous names such as Dorling Kindersley, Puffin and Ladybird. Each year we publish close to 4,000 titles, for adults and children, in fiction and non-fiction, from timeless classics to the hottest bestsellers.
We benefit from strength in all areas: an unrivalled stable of bestselling authors including Patricia Cornwell, Jan Karon, Nora Roberts, TerryMcMillan, Jamie Oliver and Nick Hornby; a strong record of uncovering new writing talent such as Sue Monk Kidd, Zadie Smith, Eoin Colfer and Khaled Hosseini; and a stable, powerful backlist of evergreen titles through Dorling Kindersley and the Penguin Classics.
After five straight years of record sales and profits, 2004 turned out to be a tough year for Penguin. The business was hit by the weak dollar and a slowdown in the US book market (Penguin makes around two-thirds of its sales in the United States), and by a disrupted move to a new warehouse in the UK which is now running smoothly. Our year was also affected by some trends which the consumer publishing industry has faced for some years now: the growing importance of major supermarket chains as booksellers; increasing competition in backlist publishing; and weakness in the 'mass market' category of bestselling books in the United States.
Some of Penguin's efforts to tackle these industry issues will begin to bear fruit in 2005. We've created some innovative ways of reaching new readers, including a direct-to-consumer sales operation in the United States. We have led the industry in innovation, launching a 'premium paperback' that is meeting our consumers' wish for a higher quality, more appealing style of book. And we've continued to invest in new authors - especially in relatively fast-growing segments of the consumer publishing market such as history, politics and business. Our newest imprints, including the Penguin Press, Gotham and Razorbill, have already published some big hits, including Lynne Truss's Eats, Shoots & Leaves, a one-million seller in the US, and Ron Chernow's acclaimed biography of the first US Treasury Secretary, Alexander Hamilton. Together, our new imprints have already published more than 30 national bestsellers in the US and generated sales of some $40 million.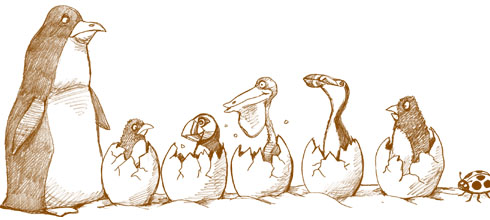 Hatching a new generation of book brands
We're also stepping up our efforts to make the most of the scale we enjoy when Penguin and Pearson Education work together. Pearson is the world's largest book company and we have combined our warehousing and distribution operations in Australia, Canada, India and the UK. In 2005, we'll begin to see significant cost savings from these combinations, which will help us improve Penguin margins and reinvest in the quality writing that has made Penguin the world's best and most inventive publishing company for the past 70 years.